Follow Your Heart!
We received the following question at our Guest Book: "I seem to have the theory figured out, and I know just about all there is to know about the spiritual process, but I don't seem to have the feeling in my heart which everybody claims is the result of all of this. How do I get it?"
Yours is a frequent complaint among seekers, in particular among western seekers. We understand all the basics, we may even see auras, maybe have a little clairvoyance, maybe can heal others, and maybe even control the weather, but something seems to be missing – the ananda of Indian paths, the "heart" of Christian paths, the "sweet feeling of bliss" of New Age teachings.
This "feeling," this fullness of the heart, what I call Presence or Grace, is, in the final analysis, all that matters. Indeed, I have never read or heard of anyone who has achieved or received this Grace, asking for the other "benefits" of the spiritual path. It is only those of us who might be quite adept at other aspects of the spiritual process, but are missing this feeling, who bemoan its absence. And rightly so. It is not enough to be intellectually proficient, or indeed, psychically proficient in the spiritual process. The spiritual human being has a deep and everlasting need for completeness, or fullness, or love, or happiness, all terms which can be substituted for the sense of Grace which is felt directly and solely within the heart.
Of course, by heart, I do not mean the physical, biological organ, but the area within the body and near the heart which shines and radiates with happiness when content and fulfilled. We have all felt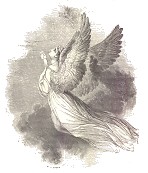 some of that, when things are right in our lives, when we are loved or loving, and when we are seated within, and not without; the direct result of being loved, loving, or happy. Indeed, when especially happy, we often put our hands to our chest in delight, signifying the innate knowledge that it is there where our happiness resides. Just so, it is that need which makes us meditate, which keeps us meditating, which makes us turn within, and which generates aspiration in the spiritual seeker. This sense, or state, or position is the ultimate goal of the spiritual process. All other achievements along the way are incidental, and even distracting. The powers and consolations of the spiritual search may come and go, and thrill or terrify, but they do not fill the heart, nor can they satisfy the seeker. Only this Grace, this loss of self to Self, or God, can satisfy and fulfill the seeker to the extent that he or she no longer needs or longs for anything further.
How to "get" it? That is the question. As with all things, the first answer is: How much do you want it? If you want it more than anything else, more than the powers, more than the consolations, more than the momentary pleasures of all other achievements in life, both worldly and spiritual, then you shall have it. It is as simple, and as difficult, as that.
The second answer is to recognize why it is so difficult. In my own experience, as a highly educated and thus mental individual, I was initially and normally drawn to the mental, intellectual path. I wanted power – over my life, over my thoughts, over my fears, and I believed that power to reside in my mind. A logical assumption, and one which, initially at least, is correct. Without controlled, appropriate mental processes, the body and all its aspects, mental, emotional and physical, are in chaos and driven by all kinds of input, outer and inner. So, initially when undertaking the spiritual process, I went for the intellectual aspect of the search: understanding, knowledge, and ultimately, power from knowledge. And I believe most of us in the West do the same.
Somewhere along the way I was fortunate to stumble upon the crucial aspect which I had missed, the process of surrender, or the cultivation of Grace, that which resides within the heart, which some call the Heart Chakra, the Self, the Christ within, and so forth. It is the direction of thought, meditation, aspiration, and one's total being toward that "space" which encompasses surrender. (And, perhaps not incidentally, as surrender progresses, understanding, power and all the rest of it come naturally, easily, and safely.) The process of surrender, in and of itself, naturally opens the heart and reveals Grace. The extent to which we resist this surrender exposes to each of us our fear of admitting ignorance, or of revealing vulnerability, or of feeling dependent, or, in the end, our fear of innocence, for with surrender comes innocence. In retrospect, it is amazing to me how we all fight against this process, when we are told over and over again the benefits we will derive and the suffering we will lose. But the egocentric mind is a devious and frightened creature, and so is its dynamic.
To surrender means to understand and accept the realization that our mind, body, and all that we consider to be us, is not sufficiently powerful nor knowledgeable enough to have all the answers. It requires an acceptance of fate, and an acceptance of faith, in a Universe or God that is benevolent and nourishing. It requires that we cease projecting our limited images of ourselves upon others and our reality, and instead, allow the universe and others, and ourselves, to unfold, and become a process. This is a scary moment to an ego structured on, and relying upon, known facts, presumed conditions, and dependable future expectations. Of course, in our most secret moments, we know, or at least suspect, that our presumptions are only that, presumptions, and that we are indeed subject to forces and plans which far exceed our small needs and demands. But we try very hard to avoid seeing that. It is that resistance, that avoidance, which keeps us bound and closed-hearted.
From a practical standpoint, then, my advice would be to keep doing whatever it is you do in your spiritual search, but begin to concentrate more on those Teachers and methods which stimulate the heart, both figuratively and literally. In the Chakra system, begin to emphasize the Heart Chakra as opposed to the Crown Chakra. Indeed, without exception, those who are Grace describe the process of opening the Chakras as terminating not at the Crown as commonly believed, but at the Heart: after having reached the Crown, then curving back down to the Heart. It is there where God resides, or the Source, or That Which we are in essence. The mind wants to stimulate the Crown, but the Heart wants to stimulate the Heart. Follow your heart!
Specifically, I suggest reading literature by or about saints of all cultures and traditions who emphasized and practiced surrender and humility. I suggest listening to music which stimulates the heart; burning incense which stimulates the heart; and cultivating friends who truly love you, and who love your spiritual commitment. I would cease reading sad, horrifying, or depressing literature. I would cease watching the same on television and in theaters. I would avoid those who come toward you without at least a modicum of heart feeling. I would change my venue of work and living if there were not at least some people who reinforced this effort. Finally, I would turn within and ask that Being within to assist me, to reveal Itself to me, and to open my heart. I would demand it and weep for it. I would not accept "no" for an answer, and I would devote as much time and energy as necessary to make it work. God always answers those who ask … but we must ask, and we must mean it when we ask. Tears are always a sign that we truly mean it. Do not be afraid to cry for it.